Our planet is currently losing over 15 billion trees each year – that's 56 acres of forest every minute!
In order to deliver on our Mission, and support our tree planting initiatives, we have chosen a partner that is central to our aim of providing a positive contribution to the reduction of greenhouse gas emissions.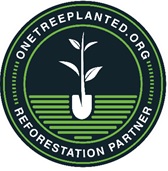 We have teamed up with One Tree Planted, a not for profit on a mission to reforest our planet and provide education, awareness and engagement on the importance of trees and our ecosystem. Their strong ethos and diverse and varied projects are very appealing to us and our Mission. They believe in conservation, not only because it protects native plants and animals, but also because it protects us. They believe by acting now to protect nature and prevent extinction, we can secure a better future for all.
Currently Greenslips4Earth partners with One Tree Planted in Tasmanian tree planting initiatives where over 30,000 trees are scheduled for planting over the next 12 months.
You may learn more about One Tree Planted here.