10 Best Scenic Drives in NSW
For drivers in New South Wales, the journey can be just as mesmerising as the destination. From the lush hinterlands to the rugged coastal cliffs, NSW boasts some of the most stunning landscapes in Australia. 
Fasten your seatbelts and get ready to embark on unforgettable adventures as we explore the top 10 scenic drives in the state. We'll take you through each picturesque route, highlighting the breathtaking sights you'll encounter along the way. Before we set off, don't forget that safe driving is paramount, so we'll also leave you with some safety tips to remember on your road trips.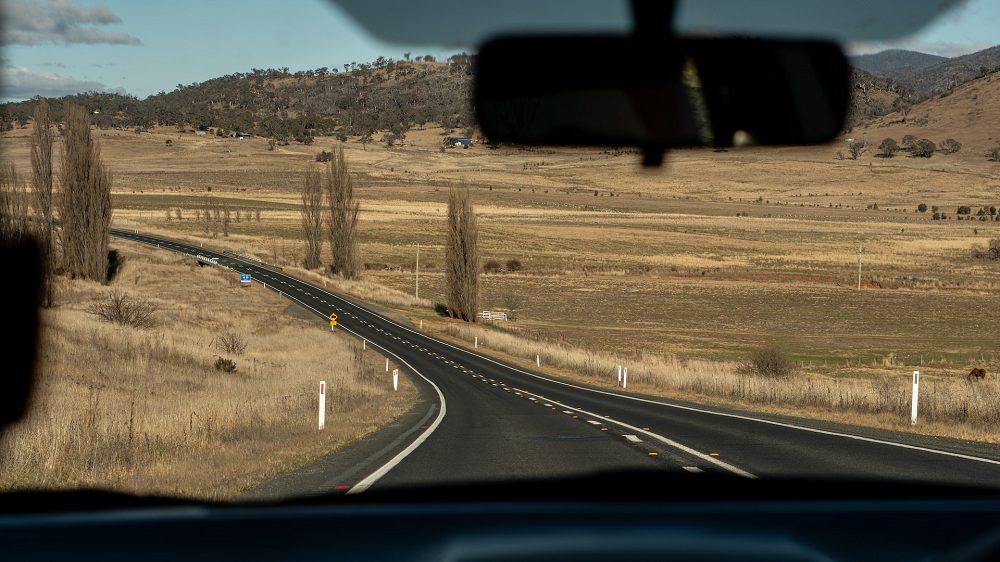 Best Scenic Drives Of Australia's NSW
Grand Pacific Drive
Kicking off our list is the iconic Grand Pacific Drive. This 140-kilometre coastal journey takes you from the Royal National Park to the charming coastal town of Kiama. Along the way, you'll be treated to awe-inspiring views of the sparkling Pacific Ocean, breathtaking sea cliffs, and the iconic Sea Cliff Bridge. 
Make sure to stop at Bald Hill Lookout, where you can enjoy panoramic views of the coastline and watch hang gliders take flight.
Blue Mountains Botanic Garden to Bilpin
The Blue Mountains are a treasure trove of natural beauty, and this drive showcases its splendour. Start at the Blue Mountains Botanic Garden in Mount Tomah and wind your way through the mesmerising Bilpin region. You'll be captivated by vast gardens, quaint villages, and orchards laden with fresh fruits. The panoramic vistas of the Blue Mountains National Park and the Wollemi National Park will leave you in awe.
Waterfall Way
For a truly immersive nature experience, take the Waterfall Way, a 170-kilometre route that runs from Coffs Harbour to Armidale. As the name suggests, you'll be treated to numerous breathtaking waterfalls along the way, including Dangar Falls and Ebor Falls. The lush rainforests, gorges, and stunning vistas make this drive a must for nature enthusiasts.
Snowy Mountains Highway
For those seeking an alpine adventure, the Snowy Mountains Highway offers a scenic drive through the Snowy Mountains region. Starting in Cooma and ending in Tumut, this drive takes you through picturesque landscapes, including Kosciuszko National Park, the country's highest peak. Be sure to visit the iconic Selwyn Snow Resort and the charming town of Adelong en route.
Legendary Pacific Coast Drive
For an extensive and diverse scenic drive, explore the Legendary Pacific Coast. Stretching over 800 kilometres from Lake Macquarie to Tweed Heads, this drive showcases some of NSW's most stunning coastal landscapes. You'll encounter golden beaches, seaside towns, lush rainforests, and marine parks, all while relishing the soothing sound of crashing waves.
Hunter Valley Wine Country
Wine lovers will delight in the Hunter Valley Wine Country drive. Just a short distance from Sydney, this scenic route takes you through the region's famed vineyards, cellar doors, and rolling vine-covered hills. Indulge in wine tastings, gourmet food, and scenic vistas as you soak in the serene ambience of Australia's oldest wine region.
Kosciuszko Alpine Way
Experience the unparalleled beauty of the Snowy Mountains through the Kosciuszko Alpine Way. This drive takes you from Jindabyne to Khancoban, passing through Kosciuszko National Park and Alpine villages. Enjoy scenic views of Australia's highest peaks, serene lakes, and alpine meadows, making this drive a visual delight.
South Coast Wilderness
Venture off the beaten path and explore the South Coast Wilderness drive. This lesser-known route takes you from Batemans Bay to Eden, revealing pristine beaches, ancient forests, and secluded coastal towns. Keep an eye out for wildlife, including whales, as the South Coast is known for its fantastic whale-watching opportunities during migration seasons.
Bells Line of Road
For a drive with historical charm, travel along the Bells Line of Road. This scenic route offers spectacular views of the Hawkesbury River, Mount Tomah Botanic Garden, and the Blue Mountains. Don't miss the famous Bilpin Fruit Bowl, where you can sample locally grown fruits and artisanal products.
Tourist Drive 33
Last but certainly not least, Tourist Drive 33 will take you on a journey through the picturesque Central Coast. Winding through Calga, Peats Ridge, Mangrove Mountain, Kulnura, and Yarramalong, this drive features lush forests, rolling hills, and charming rural landscapes. The route is dotted with art galleries, cafes, and boutique shops, offering a perfect blend of culture and nature.
Safety Tips for Scenic Drives
While embarking on these scenic drives is an exciting prospect, it's essential to prioritise safety throughout your journey. Here are some comprehensive safety tips to ensure you have a memorable and safe road trip:
Plan Ahead
Research your chosen route, check weather conditions, and have a map or GPS navigation system at hand.
Regular Rest Stops
Take breaks every two hours to rest, stretch your legs, and avoid driver fatigue.
Observe Speed Limits
Adhere to posted speed limits and drive according to road conditions.
Share the Driving
If possible, share driving responsibilities with other licensed drivers to prevent exhaustion.
Watch Wildlife
In rural areas, be cautious of wildlife crossing the road, especially during dawn and dusk.
Stay Hydrated
Carry plenty of water to stay hydrated, especially during hot weather.
Emergency Kit
Pack an emergency kit with first aid supplies, a torch, and basic tools.
Mind the Sun
Wear sunglasses and use sun visors to reduce glare during sunrise and sunset.
Remember: Greenslips and CTP Insurance
Before embarking on any of these scenic drives in NSW, don't forget that all drivers need a Greenslip or Compulsory Third Party (CTP) insurance to drive legally on NSW roads. Greenslips 4 Earth allows you to easily compare Greenslip prices from leading insurers, ensuring you find the best coverage that meets your needs. Click here to use our Greenslips Calculator
Enjoy The Best NSW Scenic Drives
New South Wales is a treasure trove of scenic wonders, and embarking on these top 10 drives will allow you to witness the state's unparalleled beauty firsthand. From coastal roads to alpine passes, each route offers a unique and unforgettable experience. 
Remember to prioritise safety during your road trips and ensure you have the necessary insurance coverage. Hit the road with enthusiasm and appreciation for the natural wonders that New South Wales has to offer! Safe travels!